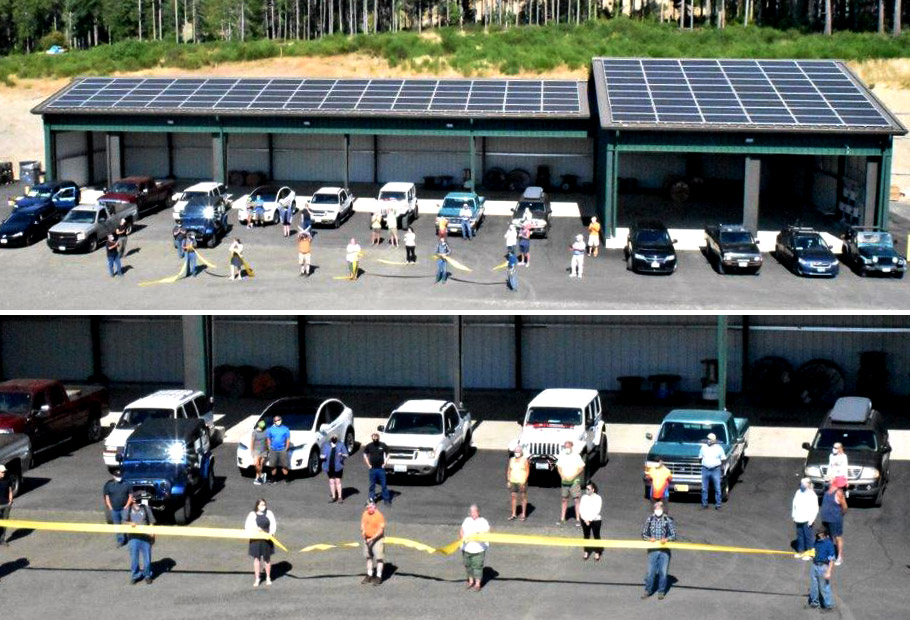 INTRODUCTION
Mason County PUD No. 1 unveiled their second community solar project at a drive-in ribbon cutting on Tuesday, July 28th at the PUD's new warehouse in Potlatch. After construction delays and rescheduling due to the pandemic, persistence paid off as over two dozen customers, community members, employees and commissioners came together under proper safety guidelines to celebrate the new solar array.
We are subscribing a 50+ kW project with 965 units available for our general pool of subscribers and 500 units for our low-income pool. For the life of the solar projects (estimated to be 20 years) participants will receive an annual bill credit for the percentage of energy generated. Through the year 2028, participants will also receive a Washington State Production Incentive specifically for Community Solar. Some customers may also be eligible for a federal tax credit to help speed up their payback period on their investment.
The PUD would like to thank Bonneville Environmental Foundation for their support in planning the project and their generous grant to allow low-income customers to participate. South Sound Solar was selected as the installer and previously installed the PUD's inaugural solar project in 2016.
Learn more about our project by reading our Frequently Asked Questions.
Click here to download the community solar participant agreement.
CALCULATE & REGISTER
Bonneville Environmental Foundation awarded a $50,000 grant to Mason PUD 1 to designate a portion of the solar project to prequalified, low-income customers.
These customers can participate without having to pay the subscription fees and still receive the output benefits to help offset their energy costs.
All low-income applicants will be prequalified and registered through an in-person appointment with the Community Solar Project Manager the week of February 3-7, 2020.
Applicants should call Julie Gray at (360) 877-5249 x. 212 to schedule an appointment. Depending on the amount of interest, additional appointments may open up the following week. Applicants must have all relevant paperwork in hand for the appointment (refer to our guidelines document for more info). Please verify with Julie which documents you are bringing to the appointment to ensure that they are sufficient.
***LOW INCOME PARTICIPANS SHOULD NOT FILL OUT THE ONLINE FORM. YOU MUST REGISTER IN PERSON WITH JULIE GRAY. CALL TO INQUIRE ABOUT APPOINTMENT DATES AND TIMES (360) 877-5249 x. 212.***
View requirements for low-income participation here.
Click here to download the low-income participation agreement.
COMMUNITY SOLAR PAYBACK CALCULATOR
Registration is now closed for Phase II – Please contact Mason PUD 1 directly for more details.