Stream Monitoring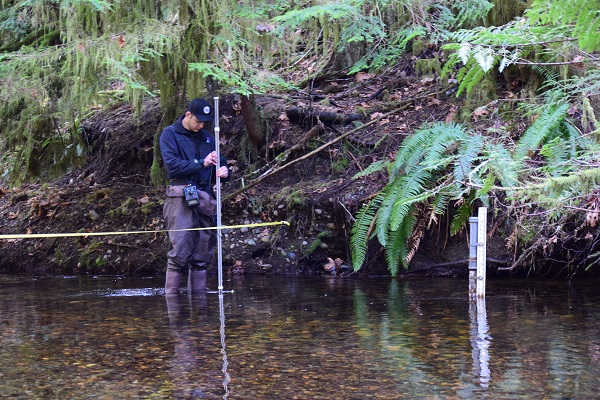 In 2019, our water department installed stream monitoring stations in three creeks in the Union area. The data collected at these stations is vital for understanding how human consumption, weather and infiltration affect local groundwater availability. With stream monitoring stations located throughout the area, coupled with rain and groundwater monitoring, a comprehensive model can be generated to ensure water sustainability. Schumacher, Alderbrook and Big Bend creeks have all been equipped with a surface water level staff gauge mounted on a 4 foot well point containing a data logging device that continuously reads the creeks temperature, and pressure. Once a month, the data is collected from the loggers, and PUD personnel take depth and water flow measurements at different points of the creek's cross section.
(Pictured Above: PUD 1 Engineering Manager James Reyes takes measurements at Schumacher Creek.)
To augment this data, the district has set up to take monthly ground water measurements, tracking the static levels of in 3 different wells across Union. A rain gauge the PUD is installing in Alderbrook will track rain amounts monthly.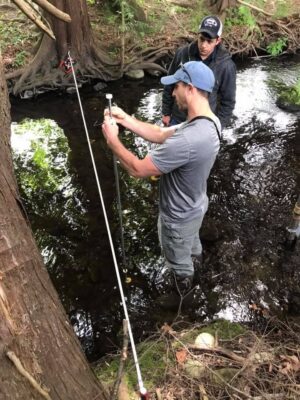 After a year of data collection, a good understanding of the sensitivity and environmental tendencies of the Union streams will help ensure sustainable water design and efficient water use for future generations. Starting in October 2020, the public can access all the data we are collecting. Our friends at Kitsap PUD helped us design this monitoring network.
(Pictured Right: Joel from KPUD shows James how to take measurements.)
The District thanks Kitsap PUD, Hood Canal Communications, Alderbrook Resort, the Skokomish Indian Nation and Green Diamond Resource Company for their assistance and support in launching this monitoring project. 
Stations at Alderbrook Creek                                      Big Bend Creek                               Schumacher Creek